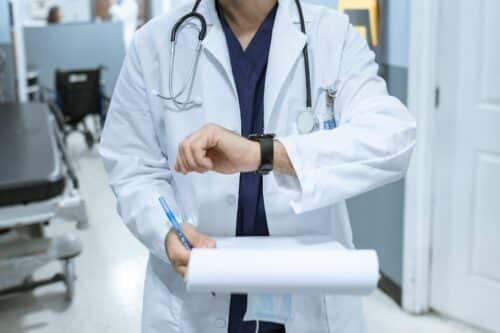 Singapore is one of the most popular destinations for healthcare tourism second only to Canada. Every year, large numbers of visitors come here solely for medical treatment. Singapore's excellence in healthcare and other related services has made it a popular destination for people seeking professional medical care and top-of-the-line treatment.
Some of the best cardiologists and heart specialists in the world call Singapore their home. If you're looking for one that has the expertise and experience in providing quality heart health care, treatment, and advice then let's talk about how to find them.
How Many Cardiologists are There in Singapore?
Searching for the best and most recommended cardiologist in Singapore can be like looking for a needle in a haystack. In 2021 alone, there were a total of 276 registered cardiologists in the country which is a testament to how competitive this area of specialization has become. With the right care and attention, you can find the best cardiologist to manage your care.
Why choosing the right cardiologist is important?
It is important to choose a cardiologist that has the skills to treat your condition and that you are able to get along with. Often you will be seeing your cardiologist on many occasions so you have to ensure that they are the right fit for you. This is your first consideration when looking for the best cardiologist in Singapore.
Next, you need to remember that prices vary widely, so you also need to consider what treatments the clinic can provide and whether or not it fits your overall budget. In addition, if you are under insurance, you need to make sure that the cardiologist you choose is on your insurance panel.
Researching and comparing cardiologists in Singapore
After checking if the cardiologist is on your insurance panel. You can then proceed to do a Google search and search for specialists in different websites. Just be aware that most of these sites are tools for marketing that are designed to make the doctor look good from every angle.
Asking family members and friends who might have prior appointments with a cardiologist will also help. They might not be able to provide detailed information on the doctor's skills and expertise but they can at least recommend someone who has a pleasing personality and are nice to get along with.
Your best source for a recommendation is a doctor or heart specialist whom you might also know. Ask them who they would go to for the type of problem or symptom that you are experiencing. The best cardiologist in Singapore will meet these conditions but there are still more that you need to consider so just keep reading.
Related Article: Heart Specialist Clinic Singapore: Expert Care for Your Cardiac Health
What factors should you consider when choosing a cardiologist?
Zeroing in on the right specialist from a long list of recommended cardiologists in Singapore can be a hard task. Choosing the expert to address issues in your heart health is not a matter of one-size-fits-all. Making sure that the cardiologist is someone whom you feel comfortable talking with is crucial. Aside from that, he must also have the right expertise and skills to handle your condition. Here's a list of things that you should consider when choosing a cardiologist.
Location – you don't want to be stressed just looking or reaching the clinic so be sure that it is accessible from where you are staying in Singapore
Insurance panel – Check with your insurance provider and make sure that the cardiologist on your insurance panel
Language – Communication is important so make sure that the doctor speaks your language
Price – Compare pricing and be sure to pick one that fits your budget. Some of the best cardiologists may also be the most expensive.
Personal recommendations – Your primary care doctor or other trusted healthcare providers can provide good recommendations so be sure to ask them as well. Asking family and friends who had prior appointments is also a good idea.
Skills – most cardiologists can treat most heart conditions, however, for rare conditions such as congenital heart disease then you'll need to see a specialist who has expertise in that area.
Tests and treatments available – check out what the clinic offers. Is it a one stop shop

?
Tips on receiving the best care from your chosen cardiologist
Don't be afraid to ask questions and one thing that you can do is to write them down before going for your first appointment so you won't forget them. If your cardiologist's answers don't satisfy you then you can go for a second opinion.
Bringing all previous records and details of previous investigations is also important so that your cardiologist will be aware of it and follow through with the needed treatment or procedures. Here are some extra tips that you can consider.
Find a cardiologist who is affiliated with a reputable hospital or medical center.
Ask questions about the cardiologist's experience, qualifications, and approach to treatment.
Be open and honest with your cardiologist, especially about your symptoms, concerns, and medical history.
Consistently follow the instructions and advice given by your cardiologist and ask for anything that you want to be clarified with.
Track your progress regularly and be sure to tell your cardiologist if you felt any changes or have additional concerns.
The best cardiologist knows what a patient needs and is an effective communicator. But be ready to ask questions if you don't fully understand something.
The Benefits of Working with a Recommended Cardiologist in Singapore
Here are some other benefits that you'll get when you choose to consult with a recommended cardiologist.
Access to advanced technologies and top-of-the-line treatment – The best cardiologist is one that has access to the latest treatment methods and technologies as this will improve your chances of getting a successful outcome.
Next level of care – Be sure to choose one that has an enjoyable and more dedicated approach towards providing the best quality of care to ensure overall satisfaction and well-being.
Enhanced coordination of care – The best cardiologist will have connections with other healthcare providers in Singapore such as specialists and hospitals. This will ensure that you receive coordinated and comprehensive care.
Better communication – Your cardiologist should always take the time to explain your condition and treatment options in a way that you can understand. This will help you feel more informed and involved in your care and overall heart health.
Recommended Cardiologist at The Harley Street Heart and Vascular Centre
In clinics like The Harley Street Heart and Vascular Center, our cardiologists ensure that you are treated as an individual. One of our core values is providing medical services that make patients feel at ease from start to finish. The clinic has 3 different locations within the bustling streets of Singapore and if you're looking for a heart doctor who packs years of experience in cardiology along with relevant expertise in the field look no further.
Conclusion
Finding the right expert to attend to your heart health needs is like looking for a soulmate. It can take time if not done the right way but once you find the perfect one, it's going to be worth it! To book an appointment with one of our cardiologists today, feel free to send us an email or call +65 6235 5300.
Written by: Dr Michael MacDonald MB ChB, BSc (Hons), MRCP (UK), MD (Research), FESC (Europe). Dr MacDonald was trained in the UK and is a senior Consultant Cardiologist.